Few weeks back I got the chance to visit Mata Vaishno Devi. The new train 'Shri Shakti Express' started by Government of India is one of the best thing did in recent past. It was quite helpful in saving time which was unnecessarily waste in travel. The train starts at 5:30 pm from New Delhi Railway Station and reach Katra at 5:10 am. Katra railway station is an example of art of state equipped with all required facilities. IRCTC build a guest house at the station. You can book a package with IRCTC which includes a room and drop and pick from the Yatra point.  Due to the overnight journey you can't get tired. If you manage the time and complete Yatra in same day, you can catch a train back to Delhi in night at 10:45 pm which reach Delhi at 10:45 am next day.
The Yatra slip is available at the station. Starting point of the Yatra is couple of kilometers from the railway station. You can walk to the point of Yatra begins if you want else there are auto's available at the station which are cheap in morning but costly in evening.
There are various development works did and still in progress on the way to darbar to ease the Yatra for the pilgrims. Something which I noticed is the change in the Yatra. Earlier most of the people prefers to walk to the bhavan, only elders (who are unable to walk) and ill people would prefer the horses for Yatra but now a days many young people also prefers horse for Yatra which only increased the number of horses on the Yatra way and uncomfortable for the pilgrims who are on feet. Overall, the Yatra is quite comfortable due to morning hours coolness.
Though I have did Yatra several times in past too but this time the thing which attracted my attention is huge volume of offering and donation to the temple. I am not saying that this is wrong but I must say that there should be some process to make which will help nation's development in some way. As the donation is done by the people of the nation so it will go back directly to those people only.
What if the temples use that money to run langar (charity kitchen) for everyone irrespective of their religion and caste like langar run by  gurudwaras. Every religious place should learn this best practice from gurudwaras. Government, also, should intervene and order every temple, mosque and church to run langar everyday and ensure that any human being should be benefit from it. Also, the food serve is the one which will be consumed by individual from any beliefs and not only by a set of people. Government can make it mandatory condition that if any new temple, mosque, church build in the country should start langar from the day of praanpratishta (foundation day).
If any of the religious place, new or old, is not following this practice then government should takeover the maintenance of the place and either demolish it or start langar (whichever is better as per the situation). This rule will also helps in controlling those religious place which are only set up for the land encroachment.
God is there to protect devotees, then why god's home cannot save devotees from hunger.

The following two tabs change content below.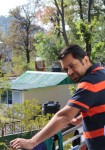 Proud Indian. Software Analyst. Blogger. Entrepreneur. Technology Enthusiast.

Latest posts by Puneet Teotia (see all)